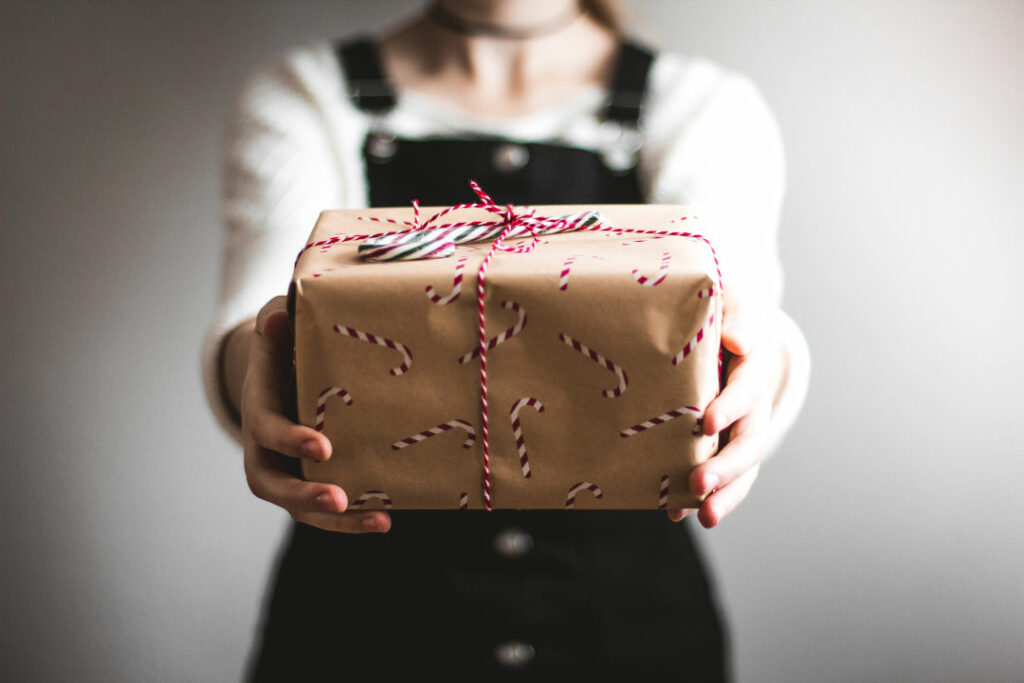 Creative gift ideas for Christmas
The festive season is just around the corner, and with it the question of creative gift ideas for Christmas. If you want to give something other than wool socks or eggnog, we have collected a few good ideas.
Let's face it: as a student, you're always happy to receive a small gift of money, furnishings for your apartment, a laptop, and so on. But what if you want to give something as a gift? In your phase of life, money is often tight, so expensive gifts are out of the question. The solution: Give the gift of experiences! Time spent together is something precious and cannot be valued with money. That's why you can bring your loved ones great joy by giving them experiences that don't have to cost a lot.
Creative gift ideas for experiences:
Cooking night together – how about a warming chili, for example?
Cocktail tasting at your home, you can find great cocktail recipes here.
Go on a hike together that you organize
A mini-trip through nature with inexpensive means of transport – here you can find the most beautiful train routes in Germany
A city trip, how about a visit to the worth seeing cities Leipzig or Kaiserslautern for example?
Watching the starry sky/full moon together and having a picnic (especially suitable as a romantic experience gift)
A game or movie night, you make the selection in advance with a view to the favorite genres of the presentee
All these experience gifts can be something very special, if you put yourself in the organization. For example, for the joint cooking evening, it would be your job to take care of a recipe, the procurement of ingredients and the preparation. Check out our blog for delicious, healthy recipes. Be sure to check out our atumn recipes, too!
Tip: Create a visually appealing coupon and print it out. There are plenty of templates for this on the internet.
On internet platforms like Etsy, artists offer their work for sale. The offer ranges from multiple prints to unique pieces that are not available anywhere else in the world. Especially for up-and-coming artists, these one-of-a-kind pieces are usually inexpensive.
And isn't it a cool idea that a unique piece purchased cheaply today and given away as a gift could be worth a lot in a few years? Provided the artist has a breakthrough, of course. But just the possibility and the individual art itself have their appeal. In addition to paintings, you can buy earrings, water bottles, pillows, key chains, tea light messages, etc. online in unique designs.
With such a book, the gift recipient answers the familiar question "Where do you see yourself in 5 years?" once in reverse: "How have I spent the last 5 years?". This diary is an exciting journey to oneself. With it, the presentee documents day by day how his or her own life is developing. The five-year diaries are available to buy online from various suppliers with a wide variety of designs. And one thing is certain: opened every day and writing in it, this gift will remain in the memory for a long time.
By giving a piece of forest or a tree as a gift, you are making a contribution to nature conservation – and the gift is original to boot. For example, the NABU Foundation offers a primeval forest sponsorship as a gift. It costs the giver 10 euros a month. In this way, one hectare of nature reserve in Brandenburg is protected. The support also ensures that the forest areas can be developed and running costs can be paid.
With providers like Planet Tree, you can give the gift of a tree sponsorship. The tree is planted as a seedling within the Mecklenburg-Vorpommern State Forest and raised by the forestry office. You will receive a certificate as a PDF or a printed certificate in paper format, whichever you prefer. Planet Tree is committed to planting trees in Germany in order to sustainably promote and support the preservation of forests in this country.
#2 Coffee-to-go cup (reusable)
Plastic pollutes our oceans, rivers, meadows and forests. Humans and animals also have to contend with plastics, as they enter our organisms through food. In recent years, disposable coffee-to-go cups have come into a particularly bad light. Due to their mass production and sometimes incorrect disposal, they have become a real nuisance.
You can counteract this by giving away sustainable coffee-to-go cups. These are reusable cups that are integrated into a deposit system. This means you can visit several cafés with one cup and have your favorite coffee refilled there. Successful companies in this area include reCup, but you can also get sustainable coffee-to-go cups from suppliers such as Avocadostore or green your life.
Bees are extremely important to our ecosystem. It's all the sadder that the worldwide bee die-off continues due to globalization, industrialization, modern agriculture, etc. In the meantime, half of the wild bee species living in Germany are considered endangered. With a bee sponsorship you do something for these valuable insects and at the same time implement one of the most creative gift ideas for Christmas.
With a bee sponsorship you support local beekeepers, for example in the pollination of important wild and useful plants. In addition, you promote the care and protection of bee colonies. Popular providers of bee sponsorships include Bienenretter and Mellifera e.V.
Salt can be enhanced with great flavors. In addition, the production of flavored salts is cheap and easy. We recommend coarse salt for use, as it releases the flavors intensely when ground in a spice grinder.
Recipe for a delicious chili rosemary salt:
For 200 g of flavored salt, you'll need about one stalk of rosemary and one chili pepper. Finely chop the fresh rosemary stalk and the chili. Mix both together and let dry on cutting board for 15 minutes. Pour mixture into jar, add salt and mix vigorously. Label the jar. Done!
Tip: There are no limits to your imagination when making flavored salt. However, make sure to combine flavors that harmonize with each other. For example, a lavender chocolate flake fennel salt might excite a gourmet or two, but most people are unlikely to be fond of this combination.
Another very simple and creative gift idea for Christmas is flavored cooking oil. You'll need an oil like olive oil for this. When buying the oil, make sure it is high quality, ideally it is an organic oil. It may cost a bit more, but it tastes much better than most cheap oils.
Speaking of taste, before you decide to use an oil for your gift, do the taste test yourself in advance. Some oils taste bitter; for your own aromatic oil, oils with a subtle or slightly nutty taste are better suited.
Recipe for a tasty herb oil:
For 500 ml of herb oil, you'll need a clean bottle, 4 sprigs of rosemary, 3 sprigs of thyme, 3 bay leaves, 1 pinch of nutmeg, 3 cloves of garlic, and 2 fresh chili peppers. Cut the sprigs of herbs to fit into a 500 ml bottle. Skin the garlic cloves, crush them gently and add them to the bottle along with the herb sprigs. Cut the chili peppers into fine strips and add the strips to the bottle. Fill the herb-chili mixture with the olive oil and close the bottle. Done! The oil was perfect for marinating meat and fish, as well as a dressing for salads or snacks.
Tip: Ideally, prepare the oil 3-4 days before giving it as a gift. This way it has enough time to absorb all the flavors.
WhatsApp, iMessage, Signal & Co.: Through messengers, we share loving and funny messages, vacation photos, inspiring quotes, etc. every day. But over time, these precious memories disappear somewhere in the feed, where we can no longer find them again. With a chat book, you bring out those memories again, and in an extraordinary, tangible form. The chat book is therefore one of those creative gift ideas for Christmas that have an invaluable sentimental value. Videos can also be played via the chat book, and thanks to QR codes, the presentee has the opportunity to dive into these beautiful memories at any time. Well-known providers for chat books are Zapptales or Chatprint.
More articles in our blog
We hope you enjoyed our creative Christmas gift ideas. Check out our blog for tips and ideas related to student life!