Our student apartments in Bonn
Welcome to Bonn, the small cosmopolitan student city with 2,000 years of history and the birthplace of Beethoven.
Surrounded by beautiful nature on the banks of the Rhine and with a population of about 300,000, Bonn offers one of the warmest regions in Germany. About 40,000 students make their presence felt here and shape the cityscape, especially in the city center and the university quarter. You will find numerous cafés, bistros and meeting places of all kinds here, which form the heart of Bonn's youth scene.
Discover the vibrant student life, make new contacts and experience the culture and history of this city first hand. Our modern student apartments in Bonn offer spacious rooms, a prime location and everything you need to live and study. Start your new adventure now and book your room at Staytoo.
Bonn Highlights
Open-minded student city in the middle of the charming Rhineland
Bonn is one of the warmest regions of Germany
Small city where you can easily get around by bike and by public transportation
Beethoven's birthplace
The "Halve Hahn": An amazing Bonn speciality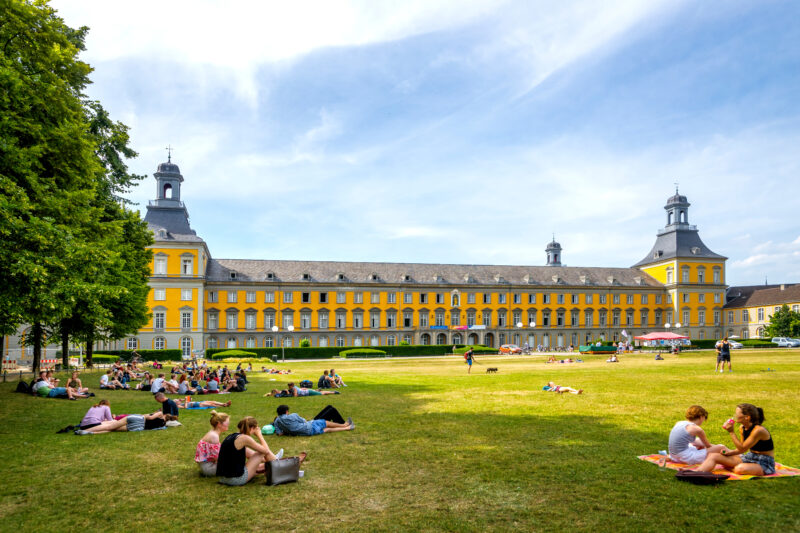 Close to the campus: Staytoo Bonn
Discover your ideal student apartments in Bonn, Rochusstraße 65. Enjoy a comfortable stay and a prime location. Access all the essential places within a short time, including the main train station, only 2 S-Bahn stops away. With a semester ticket, you can explore North Rhine-Westphalia for free, including vibrant cities like Cologne.
For carnival fans, indulge in the best pubs in Cologne, located just steps away from your apartment. The city center and university of Bonn are easily accessible by bike or public transportation. Find everything you need for daily life in the immediate vicinity. Don't miss out on the ultimate student experience and book your Staytoo apartment now at Rochusstraße 65.
Check out your new apartment!
You don't have time to visit the Staytoo Bonn on site? No problem, we have the perfect solution for you. You can easily view the house and the rooms online in 3D. Sounds good to you? Then send us a request now.
Staytoo Bonn
Rochusstraße 65
53123 Bonn
To view Google Maps you must accept the cookies and then reload the page.