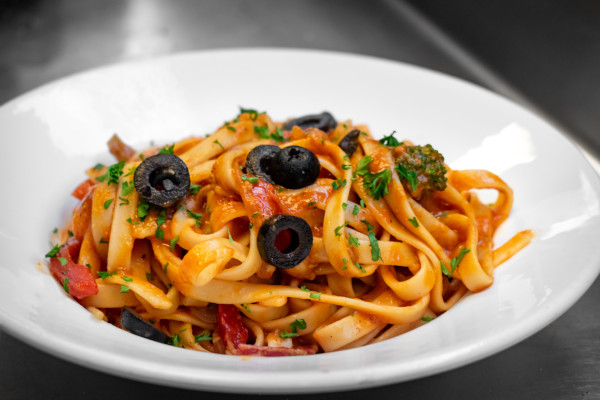 5 healthy recipes for students
Healthy recipes for the student kitchen can be prepared deliciously, quickly and cheaply. We show you our top recipes from the Staytoo kitchen! Recipe amounts are always for two people, so you can save leftovers or eat with someone else.
#1 One-Pot Pasta: Italian Wonder Pot
You've always known it: Cooking is most convenient and effective when you throw all the ingredients into one pot. With the One-Pot Pasta "Italian Wonder Pot", this behavior becomes an officially recognized recipe – and the dish is delicious, too!
Preparation time: 25 minutes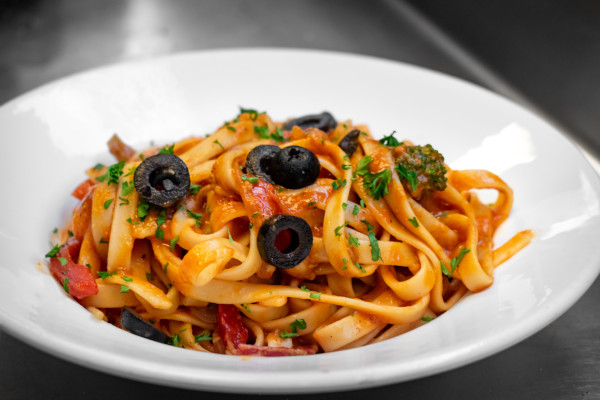 250 g pasta (tagliatelle, spaghetti, farfalle, etc.)
300 ml vegetable broth
100 g spinach
1 can of tomatoes (chunky)
1 red onion
1 clove of garlic
10 black olives
5 dried tomatoes
2 tablespoons olive oil
1 tablespoon crème fraîche
1 tablespoon parsley, fresh or frozen
2 basil leaves
2 tsp. marjoram
1 tsp. tomato paste
1 tsp. chili (fresh or as flakes)
pepper
salt
Put pot with water, add vegetable broth and heat. Peel and finely chop the onion and garlic. Then chop tomatoes and olives. Heat olive oil and add chopped ingredients along with spinach, sweat over high heat for 2 minutes. Deglaze with canned tomatoes.
Add the sautéed vegetables to the simmering vegetable broth along with the pasta. Simmer everything together for at least 10 minutes (a little longer for softer pasta, depending on desired al dente texture).
Drain water, mix in crème fraîche, marjoram, tomato paste, season with salt, pepper and chili. Garnish with parsley and basil, then serve.
With this curry you heat up the body properly: chili and exotic herbs such as coriander you cook in minutes together a colorful fireworks for the taste buds.
Preparation time: 50 minutes
150 g jasmine rice
200 g chickpeas (can)
300 ml coconut milk
200 ml vegetable broth
2 tomatoes
1 carrot
1 onion
1 clove of garlic
1/2 broccoli
1/2 red bell pepper and 1/2 yellow bell pepper
1/2 lime
1/2 chili (or dried flakes)
30 g mushrooms
30 g peas
20 g young spinach
20 g ginger
10 g cashews (cheaper alternative: roasted, low-salt peanuts)
5 g coriander
5 tbsp soy sauce
2 tbsp red curry paste
1 tbsp coconut oil
Bring water to a boil, simmer rice for about 20 minutes with lid closed. Meanwhile, peel and dice onion and garlic. Dice ginger, chop cilantro. Wash peppers, broccoli and carrot, remove stalk from broccoli and peppers. Cut broccoli into florets, peppers and carrots into strips. Clean mushrooms and cut into thin slices.
Heat coconut oil in frying pan. Sauté diced or sliced vegetables for 3 minutes, adding garlic after 2 minutes so it doesn't burn. Add curry paste and coconut milk. Add mushrooms and chickpeas, simmer on low for ten minutes, stirring gently several times.
Cut lime in half, add lime juice, chili and soy sauce, season to taste. Garnish vegan curry with cashews or peanuts and serve the dish.
Tip for vegetarians: If you want a vegetarian curry, you can add a fresh egg while cooking and let it fester.
#3 Beetroot with Mozzarella
In recent years, the healthy beetroot has made it from an unpopular winter vegetable to the star of celebrity chefs. Beet is bursting with minerals such as potassium, magnesium and iron, and also contains plenty of vitamins such as vitamin C, B-vitamins and beta-carotene.
Combined with mozzarella, the low-calorie vegetable becomes a delight and ideal for quick, healthy recipes. And best of all, the stove can stay cold for this delicious recipe. It's quick and tastes great, so it's a must in your student kitchen.
Preparation time: 15 minutes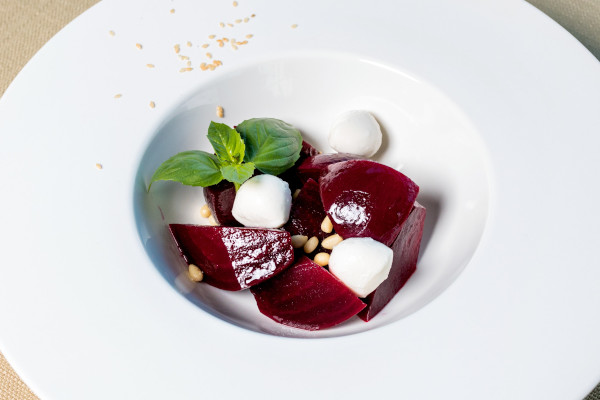 200 g beetroot (balls in a jar or vacuumed)
180 g mozzarella in small balls
50 g pine nuts
10 g sesame seeds
5 tbsp olive oil
2 tsp honey
salt
pepper
basil leaves
Quarter the beet balls, cut into wedges and drape in small bowls. Add mozzarella balls, pine nuts and sesame seeds. In another small bowl, mix dressing of olive oil, honey, salt and pepper. Drizzle the composition of beet, mozzarella etc. with it and serve. The dish is ready!
Zoodles are the healthy alternative to classic, high-carb pasta. They're especially easy to make from zucchini and carrots. Inexpensive zoodle makers for student kitchens are already available for under 10 euros, and you can also use them to zoodle carrots, cucumbers, red cabbage, etc.
Salmon is something you treat yourself to less often as a student, but it can be a highlight dish, for example for one Sunday a month. Plus, the other ingredients are inexpensive. In addition, salmon is an absolute brain and workout food with its high protein and omega-3 fatty acid content. Therefore, it should not be missing in the collection of your recipes.
Preparation time: 30 minutes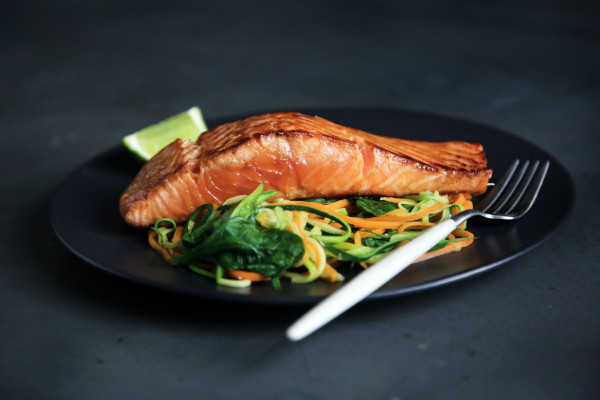 250 g pasta (tagliatelle, spaghetti, farfalle, etc.)
250 g salmon fillet (frozen)
150 g zucchini
100 g carrots
1 cup of cream
1/2 lime
50 g butter or 5 tablespoons olive oil
salt
Pepper
Defrost salmon at room temperature, meanwhile heat salted water in a pot. Wash zucchini and carrots and turn into zoodles. Add zoodles to the water as soon as it boils.
Thoroughly rinse the thawed salmon with cold water and cut into cubes. Heat pan with butter or olive oil and sear salmon for 4 minutes. Deglaze with cream and simmer on low for 5 minutes, add a little lime juice. Remove zoodles from heat and drain zoodle water.
Tip: You can also save the zoodle water as a carrot zucchini stock for another dish. Just let it cool, transfer to a bowl, and chill in the fridge for your next cooking session!
Serve zoodles and salmon fillet together with a lime wedge per plate, season with salt and pepper.
The perfect leftover meal for student cooking when you have leftover sausage and rice! But even so, this classic dish from Mediterranean climes is a nutritional bomb that you can easily prepare with just a few ingredients.
Preparation time: 80 minutes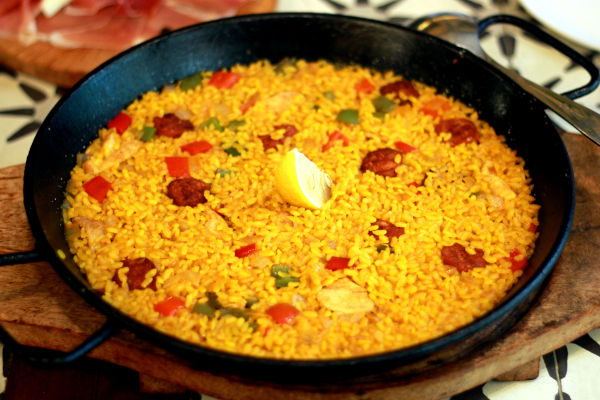 200 g chorizo sausage (alternatively Vienna sausage or smoked tofu)
125 g seafood (mussels, shrimps or similar)
175 g long grain rice
300 ml poultry or vegetable broth
100 g peas (frozen or canned)
1 yellow bell bell pepper
1 red bell bell pepper
1 red onion
1 clove of garlic
1 lemon
4 tablespoons olive oil
1 tsp parsley
1/4 tsp turmeric
pepper
salt
Defrost the seafood (if frozen), put the water on the stove. Cut the chorizo or sausages into slices about 2 cm thick. In parallel, once the water boils, add rice and cook for about 20 minutes (depending on the variety).
Meanwhile, peel and finely chop garlic and onions. Cut bell bell pepper into fine strips.
Heat olive oil in large pan, saute seafood, peppers and onions for about 5 minutes, add garlic for 2 minutes max. Add rice and turmeric, mix well and simmer over medium heat for 5 minutes. Let paella simmer on low heat for 30 minutes until cooked through.
Add seafood and peas to keep them crunchy. Cut lemon in half and add half of the lemon juice to the paella. Season with pepper and salt, cut remaining lemon into two wedges. Garnish paella with parsley and serve with the fresh lemon wedges.
We hope you enjoyed our student cooking recipes.