ChatGPT in studies: Be careful with copyright!
It's the talk of the lecture halls and beyond: ChatGPT, a chatbot developed by the US company OpenAi that generates texts in a matter of seconds. Currently (as of February 2023), the artificial intelligence can be used free of charge – and the temptation to have texts written for studying is correspondingly great. Why you should keep your hands off it and for which useful purposes ChatGPT is suitable, we will tell you in this article.
Therefore you should be careful when using ChatGPT in teaching and research
Every time you hand in a written paper, you confirm that this paper is your own work. Or in other words: You assure the university/technical college that it is a research work done by you, a text written by you and not plagiarism.
However, the likelihood is, when using ChatGPT, that if your text is submitted, there will be copyright infringement that you won't even notice.
ChatGPT creates texts based on existing texts
ChatGPT has a gigantic pool of existing texts and learned from them how natural language works, according to the developers. Nevertheless, already existing texts written by humans remain the basis from which ChatGPT makes use of. This is because ChatGPT is an AI model and actually not a creative artificial intelligence.
Dr. Max Greger, specialist lawyer for IT law, writes about the question of copyright of the alleged artificial intelligence on his website:
However, it is also the case that ChatGPT does not always create the texts completely generically. After all, the AI is not intelligent in the truest sense, but reproduces the answers based on previously viewed documents.
So it is not excluded that the AI either reproduces existing text structures or excerpts from texts that are only slightly modified. In both cases, this would constitute a reproduction under § 16 UrhG. If you then upload these texts to your website, this would also be a public disclosure according to § 19a UrhG.
ChatGPT texts belong to the company OpenAI
Problem No. 2: When asked where the copyrights of a text of ChatGPT are, the bot itself answers:

So even if you manage to have a ChatGPT text created that stands up to the now very thorough Plagscan software out there, you are committing copyright infringement. As a further warning, powerful AI text recognition software already exists for schools and other educational institutions such as universities, even developed by the ChatGPT inventors themselves. It is called "AI Text Classifier", and it is already in use and under continuous development.
Further problems with the use of ChatGPT in schools, colleges and universities
Copyright is only one pitfall in using ChatGPT in studies. Here are other pitfalls if you're toying with the idea of having AI write texts for you.
According to the developers, ChatGPT is at a knowledge level of the end of 2021, so the chatbot is not aware of developments that took place in 2022. ChatGPT cannot therefore tell you what developments have taken place in society and research in the last year, which is particularly unhelpful for texts that refer to current events.
The 2021 knowledge level is not the only problem. In several experiments, ChatGPT has spit out nonsensical or even incorrect answers to technical questions. From incorrect equations in mathematics to incorrect factual information in content, there have been several such phenomena documented on the web. The problem: If you rely on ChatGPT to answer the questions, how are you going to distinguish correct from incorrect information?
You can use ChatGPT sensibly in teaching and research
Is ChatGPT completely unsuitable for studying because of the problems mentioned above? No! There are absolutely useful applications for ChatGPT. However, since it is a new technology with so far unresolved legal issues, we would like to point out that the use of ChatGTP for your studies is always at your own risk. Now let's get to the useful application possibilities!
For research: ChatGPT is a good helper if you want to find exciting aspects and relevant information for a topic. The tool recognizes meaningful connections and clusters that belong to a topic complex. On this basis you can also let ChatGPT spit out exciting research questions by entering the command "Find research questions on the topic …" or "Tell me research areas on …".
For text drafts: Using ChatGPT to generate text drafts can help you find inspiration for the structure of your own texts. However, it is very important that you write your own texts and not just modify the ChatGPT drafts. Otherwise you run the risk of plagiarism. Of course, this also applies if you use ChatGPT to create codes in another department such as computer science.
For proofreading and editing: ChatGPT detects grammatical and stylistic errors in existing texts. To do this, enter the command "Check this text for spelling and grammar errors:", copy the text into the input field and then let ChatGPT find these errors for you. By the way, ChatGPT is also able to find synonyms for terms in your texts with the command "Find synonyms for …". to find synonyms for terms in your texts. This is useful for example if you don't always want to write "employees" or similar in your texts.
For learning: With ChatGPT you can create your own quiz and thus create your individual exam. Give the command "Create me a quiz on the topic …" and test yourself!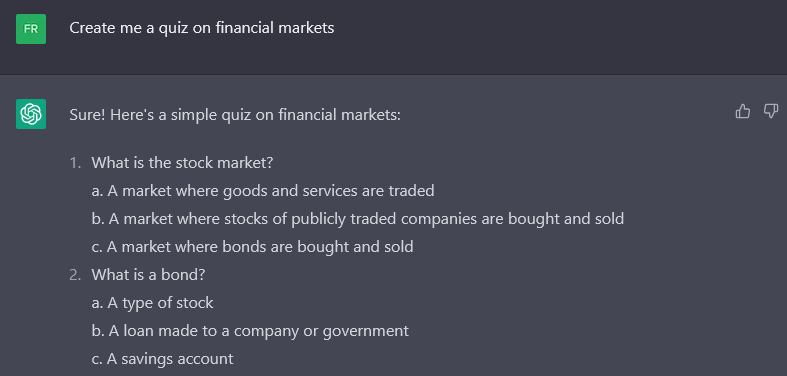 More info about chances and risks of ChatGPT in studies
The success of ChatGPT came as a surprise; accordingly, schools, colleges, and universities have yet to learn how to use ChatGPT. But it is very likely that educational institutions will make extensive use of AI recognition tools such as OpenAI's "AI Text Classifier" to recognize AI-generated texts.
However, it does not look like ChatGPT will be banned in schools and colleges for the time being. In the meantime, there are numerous media reports in which teachers, lecturers, principals, etc. have their say. The tone is similar throughout: A ban on the technology for university teaching does not make sense or is almost impossible to implement. It is much more important to teach students the meaning of their own work on the material.
Let's be honest: You study for yourself in order to acquire qualifications. So if you study, work hard and use ChatGPT to support you, you have a tool that will help you in your studies. We wish you good luck with it!
More articles in our blog
Did you like our article on artificial intelligence ChatGPT? Visit the Staytoo blog for more helpful articles about studying and life on campus. By the way, here you can find an exciting TV report on the topic, which inspired us to write this article.