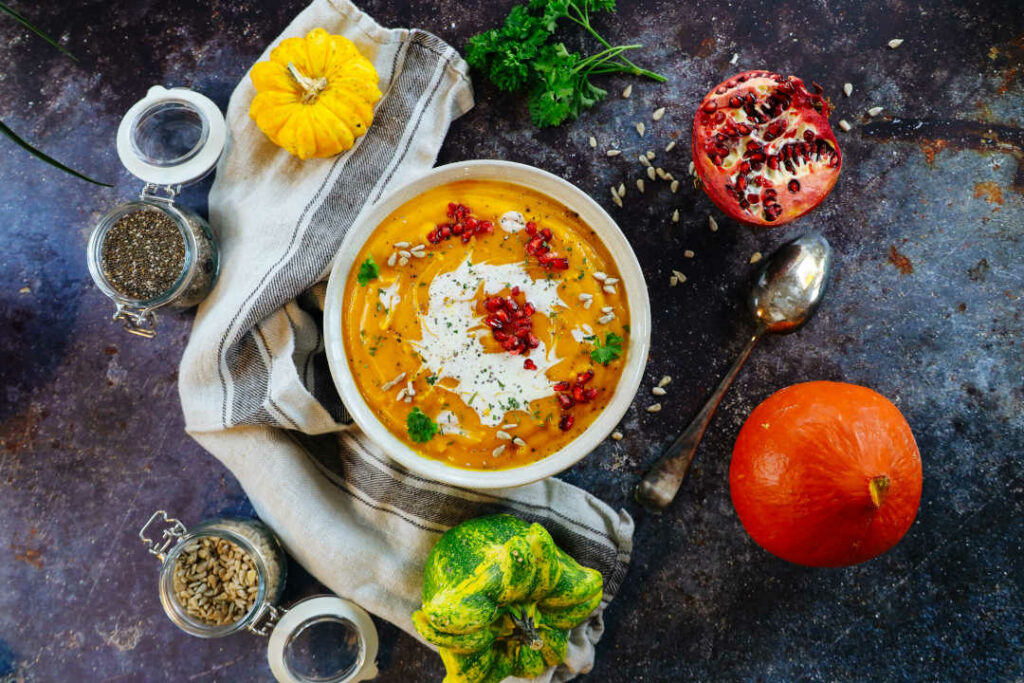 Autumn is here and with it many delicacies that belong on the table. We present the best autumn recipes for you to try!
#1 Spaghetti squash with (vegan) bacon
Here comes the perfect blend of fall vegetables and hearty ingredients. If you've never heard of spaghetti squash, you should definitely give it a try. Spaghetti squash gets its name from the fact that when it's cooked, the flesh comes out of the inside of the squash in the form of fine, spaghetti-like strands. Delicious! And a completely different way to eat "noodles".
Note: For this recipe you need an electrically operated mini oven, most entry-level models cost under 40 euros.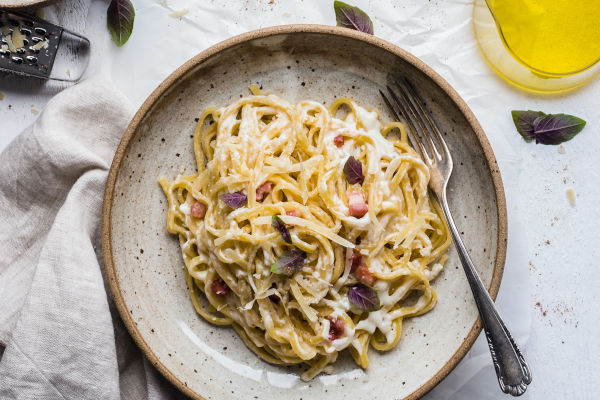 1 large spaghetti squash
250 g minced meat (beef or vegan)
1 shallot
1 small clove of garlic
1 small piece of ginger
120 g butter
1/2 tablespoon tomato paste
200 g tomatoes, chunky
1/2 tsp oregano, dried
1/2 tsp rosemary, dried
1/2 tsp thyme, dried
1/2 pinch salt
1/2 pinch pepper
25 g parmesan
Take butter out of the refrigerator to soften. Preheat mini oven to 180 degrees top and bottom heat or 160 degrees convection.
Roll out baking paper on baking sheet. Cut pumpkin into two halves, place the two halves with the lower cut side on the baking sheet. Add a little cold water, and bake the two halves of the pumpkin in the mini oven for 40 minutes.
Chop shallot and ginger. Cut tomatoes into quarters. Heat a small amount of butter in the pan and fry the shallot and ginger pieces until translucent. Then add ground beef and fry until crumbly. Add chopped tomatoes. Squeeze garlic clove and mix everything together with herbs, spices and remaining butter. Simmer on low heat for about 20 minutes.
Take the two halves of the squash out of the mini oven and turn them over on the baking sheet. Using a fork, pull the spaghetti strands out of the squash halves, but leave them in the squash. Pour Bolognese into both squash halves and sprinkle with Parmesan. Serve squash halves on plates and season with salt and pepper if necessary.
Soups warm from the inside out and are thus simply a firm part of autumn. Potatoes and kale are also real energy and vital substance bombs. So don't miss out on this delicious meal!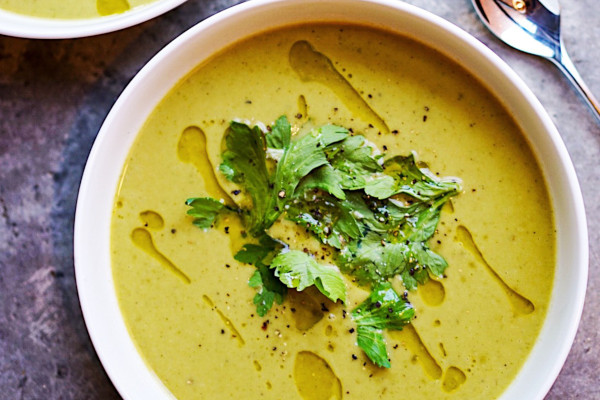 200g kale (fresh or frozen)
250 g potatoes, firm boiled
400 ml vegetable broth
1 clove of garlic
1 onion
1 tablespoon paprika powder (hot red)
1 pinch salt
Bring some salted water to boil in pot. Meanwhile, wash kale and cut into strips (if fresh and not frozen).
Wash potatoes, peel, dice and put in cold water. Peel garlic and onions, chop into fine pieces. Put into pot with boiling salted water and steam briefly. Add potato cubes, add broth, season with paprika powder and simmer on low heat for about 25 minutes.
Puree soup, add kale except for a few leaves and continue cooking on low heat for about 20 minutes. Garnish soup with remaining kale leaves and serve.
#3 Mushroom casserole (without oven)
Whether chestnuts, porcini or chanterelles, mushrooms are simply delicious and become even more delicious when baked in the oven. Best of all, you don't even need an oven for this casserole! With this recipe you can easily prepare this delicious meal in the pan.
350 g mushrooms (champignons and/or wild mushrooms)
100 g potatoes (firm boiled)
80 g leek
100 ml cream or crème fraîche
100 g grated cheese (Gouda, Emmental, Parmesan or similar)
70 ml milk
70 ml white wine
2 eggs
1 onion
1 tablespoon butter
1 tablespoon breadcrumbs
1 small bunch of chives
Peel onion and cut into fine rings. Heat butter in large frying pan and sauté onion rings. Add breadcrumbs and sauté.
Add mushrooms and sauté. Cut chives and leeks into fine rings and add to pan along with beaten eggs, stirring to coat. Turn pan to lowest heat and sprinkle grated cheese over mushroom-vegetable mixture. When cheese is well blended, ready to serve.
#4 Tarte flambée in the pan with goat cheese (without oven).
Flammkuchen has long been known and loved beyond Alsace. We add spicy goat cheese to this delicious recipe. Again, you don't need an oven, just a covered pan.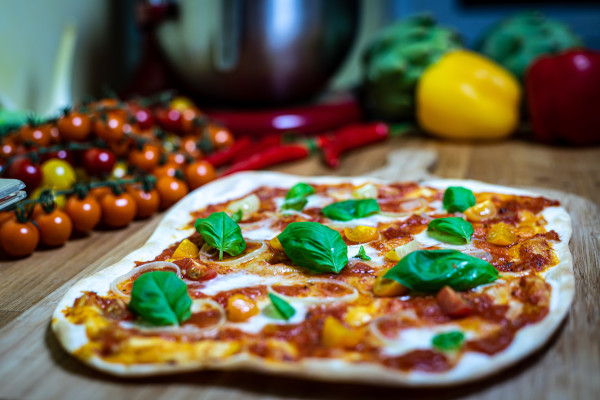 200 g flour
200 g crème fraîche or sour cream
110 ml water
100 g goat cheese
1 tbsp oil
1 tsp salt
1 onion
1 piece of (vegan) bacon
basil leaves
Cut the onions into fine rings.
Knead water, salt, oil and flour in a bowl to form a dough. Put a lid or plate on the bowl so that the dough can rise in it for 30 minutes. Then flour the work surface and roll out the dough. Cut dough into equal sized pieces (about 4).
Grease the pan and put the pieces into the pan little by little. Keep the pan closed. After about 5 minutes, the bottom side of each piece of tarte flambée will be cooked through. Check in between every now and then that the dough does not burn.
Turn the dough over and spread the browned side with crème fraîche or sour cream and top with onions. Let other side bake through as well for about 5 minutes. Sprinkle tarte flambée with goat cheese, garnish with basil leaves and serve.
Tip: You can also refine the tarte flambée with rosemary and autumn mushrooms to give it an additional delicious autumn note. Chestnuts or chestnuts cut into strips also make excellent ingredients.
#5 Juicy pear cake with cookie base (no baking)
What would a fall menu be without dessert? With this pear tart, you'll bring a delicious dessert into your own home.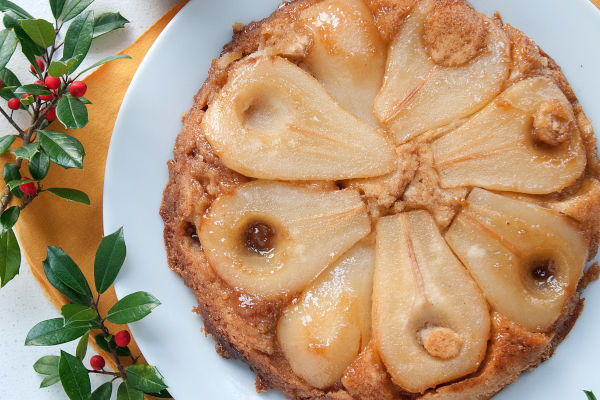 4 pears
250 g oat biscuits
230 g cream cheese
240 ml milk
80 g melted butter
100 g dark chocolate
50 g pear jam
2 egg yolks
80 g sugar
20 g flour
1 pinch of salt
1 tablespoon vanilla
Place oatmeal cookies in a bowl and crumble. Pour liquid butter over them and mix to form a dough. Pour dough into a cake pan and press down. Grate dark chocolate and spread evenly over dough.
Wash, dice and puree three pears.
Place milk, flour, egg yolks, salt, vanilla, pureed pears and sugar in a saucepan and bring to a brief boil, stirring evenly. Then allow to cool. Mix when on room temperature with the cream cheese and pear puree. Place in refrigerator for at least 7 hours.
Then take mixture out of refrigerator and spread evenly over dough. Wash remaining pear, cut into thin slices and garnish cake with them.
We hope you enjoy trying out these delicious fall recipes! Also check out our other helpful articles on our blog: