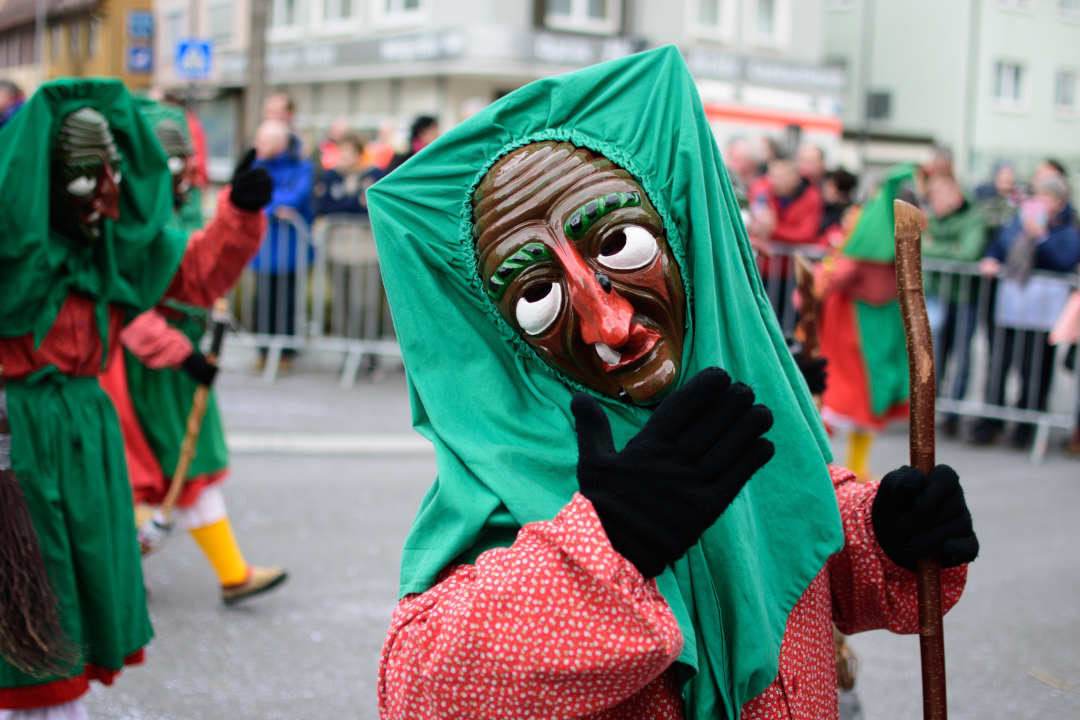 Fasching in Germany: Locations & Costume Tips
Fasching, carnival, the fifth season: In German, there are many terms for the time when people in this country dress up and parade through the streets in celebration. Learn more about the customs like "Fastnacht", where you can participate and what you should consider for your costume.
Whether it's called Fasching, Fastnacht or Karneval depends in Germany on the region. In Saxony, Schleswig-Holstein, Bavaria and Mecklenburg-Western Pomerania, Fasching is celebrated; i. a. in northern Germany and the Rhineland, the festive season is called Karneval; in Hesse, Saarland and many other regions, Fastnacht. What is meant, however, is the same thing: the foolish season that begins on 11.11. at 11:11 a.m. and culminates with parades and festive meetings in February of the following year.
Note: For the sake of readability, we mainly use the term Fasching in this article, friends of carnival may forgive us.
Are you ready to go to your first Fasching in Germany and celebrate with other people? Then you should know the following terms and their meanings:
Weiberfastnacht: Weiberfastnacht refers to the transition from the session Fasching to the street Fasching. So it is celebrated in costume in the streets, bars and pubs of the cities. In the past, the night was dedicated to women, but today this custom has loosened and all genders celebrate Weiberfastnacht. Depending on the region, the celebrating women are also called Möhnen. Caution, however, still to the well-dressed gentlemen: on Weiberfastnacht, men's ties are cut off if they wear one.
Fastnacht: Fastnacht is not to be confused with the women's carnival. The term Fastnacht is instead a regionally different term for Fasching or carnival. Alternatively, Fastnacht is also referred to and pronounced as "Fasnacht" or "Fassenacht".
Rosenmontag: Especially in Rheinhessen and the Rhineland, Rosenmontag is a highlight that is celebrated with the Rosenmontag parade. A special feature is that Rosenmontag in the Fasching strongholds is a de facto holiday, but not a public holiday. So it is actually a normal weekday, but one on which people celebrate exuberantly.
Aschermittwoch: Aschermittwoch heralds the end of Fasching and the beginning of Lent, which lasts until Easter. In the Christian religious context, Aschermittwoch is meant to remind us of those days Jesus spent praying and fasting in the desert.
Lent: Aschermittwoch heralds the beginning of Lent. Lent lasts until Good Friday and also has a religious origin. In the past, people abstained from eating during Lent, but nowadays they fast in different ways, for example by not smoking, not drinking alcohol or abstaining from social media during Lent. So today, many people choose for themselves which vice they want to give up during Lent.
Funken-/Tanzmariechen: The term goes back to the so-called sutlers. These were women who had already accompanied soldiers in the Middle Ages and provided them with various services and goods. Among other things, the sutlers had also danced and were called in this context "Funken-" or "Tanzmariechen". Today Tanzmariechen are the representatives of the local Fasching clubs and have to apply for this position.
Jeck/Narr: Jeck is another word for fool in the Rhineland. Both mean any person who actively participates in Carnival or Fasching, but is not organized in a corresponding club.
Narrenruf: greeting call of the Jecken among themselves, which differ regionally. From "Kölle Alaaf" (Cologne) to "Helau" (Düsseldorf, Koblenz, Mainz), "Ahoi" (Baden area) and even "Wau Wau" (in the Bayreuth area, among others), there are also battle cries such as "Alleh hopp" in Saarland and "Schelle, Schelle, Schell au!" in Wangen in Allgäu.
Session: Another term for the Fasching, carnical or Fastnacht season.
Umzug: Primarily floats, masquerade and dance groups that parade through the streets in costume, often making political-satirical jokes. Sweets, flowers, etc. are thrown into the crowd from so-called parade floats.
Popular carnival strongholds
In Germany, there are popular carnival strongholds where you can see great parades and join in the celebrations. At the carnival, the Rhineland in particular stands out as a carnival stronghold with Cologne, Mainz and Düsseldorf.
In Cologne, the carnival parades begin on Shrove Monday at 6 p.m. at the Alter Markt. From there, the huge carnival parade with kilometers of floats continues through the city center. This year the carnival parade is something very special: after 200 years it will take place with a new route and in a new form. Alaaf!
Mainz is world-famous for its Rotenmontagsumzug and Youth Mask Parade on carnival. Carnival event highlights include the Meenzer Fassenacht (Feb. 16), the Büttendance Open-Air (Feb. 10 / 6:11 p.m.), the Altweiber Party (Feb. 16 / 7:11 p.m.) and the Prinzengardeball (Feb. 18 / 8:11 p.m.) as well as DER BALL – Die Nacht der Narren (Feb. 18 / 7:33 p.m.).
In Duesseldorf the Weiberfastnacht and the Karnevalssonntag belong to the carnival high points. Traditionally on carnival, the so-called Möhnen – an older word for women – storm Düsseldorf City Hall in the Altweiberfastnacht at 11:11 a.m. sharp and imprison the mayor. What sounds dramatic is a long-held, harmless carnival custom accompanied by lots of fun and colorful costumes.
Other carnival strongholds
Other carnival strongholds in the country can be found in Aachen, Bremen and Marne. Check the city websites for exact parade routes and start dates for carnival!
Popular Fasching hotspots
Of course, we don't want to deprive you of Germany's Fasching hotspots either:
Bavaria's capital city offers lively festivities for Fasching fans. The Munich Dance Night (11.02.), the Children's Fasching (12.02.), the Ball of the Stars (17.02.) and the Jamboree Ball (19.02.) are known far beyond the state borders.
The linchpin of the Nuremberg Fasching is the Fasching procession, which starts at 1 p.m. on Feb. 19 at the corner of Bayreuther Strasse and Pirkheimerstrasse. One of the top events, however, is the children's Fasching procession on Rosenmontag, also at 1 p.m. at the Lorenzkirche, from where the procession heads toward the city center.
Admittedly, Berlin cannot compete with the traditional strongholds of Fasching and carnival in Germany. Nevertheless, over the years a Fasching culture has developed in the German capital under the cry "Berlin Heijo!". The Berlin Fasching parade has, among other things, as highlights the bus tour Weiberfastnacht (16.02.), the Fidelen Rixdorfer Fasching (18.02.) and the train of the "Fröhlichen Leute" with a trip to Cottbus (19.02.) to offer.
Other Fasching strongholds
Fasching also takes place in Würzburg, and the term is also used in Saxony, as well as in parts of Austria. You can find the dates for Fasching events on the websites of your region.
Tips for your Fasching costume
Of course, the fifth season is most fun in the right costume. We have collected a few tips for the ideal Fasching costume:
Feel comfortable in your costume. This is probably the most important tip when it comes to choosing a costume. Choose your costume according to whether you feel comfortable in it, only then you will have fun at Fasching or carnival. Slip into several costumes to find the right one for you.
It can be colorful and flashy! Fasching is all about standing out. Not an easy task with so many people around you who are also wearing costumes. Therefore, choose bold colors, these days are made for extroverts!
Humorous and funny, but be careful: Fasching or carnival has always been an opportunity to make fun of politics and social grievances. Beware of overly cynical or culturally offensive depictions, however, or unwanted discussions could await you instead of fun.
Dress warmly enough: February is a cold, often wet month in Germany. So if you want to avoid catching a cold, don't venture too freely among the revelers.
Topicality wins: Of course, the easiest way is to don the old theme party costume in a Spiderman or cowgirl look. However, it is much better to wear a costume that is contemporary, such as the Joker from Batman or Wednesday Addams. You'll definitely score points with that at the next parade.
Full body costumes are practical: Full body costumes are super easy to put on, are a complete outfit without much preparation, fun, and depending on the fabric, keep you nice and warm. Highly recommended for beginners!
Embellish purchased costumes yourself: Use different patterns and accessories to spice up your costume. Rhinestones, fairy lights, hats or epaulettes: The possibilities for this are almost endless.
Group costumes make more of an impression: You're going to Fasching/carnival with friends? How about wearing costumes together? The quasi-uniforms will make you stand out even more in the crowd.
More articles in our blog
We wish you a fantastic, beautiful and unforgettable Fasching resp. Carnival season in Germany! Want more tips for everyday life and student life? We also have exciting articles to offer for the period after Aschermittwoch. You'll find it in our blog.