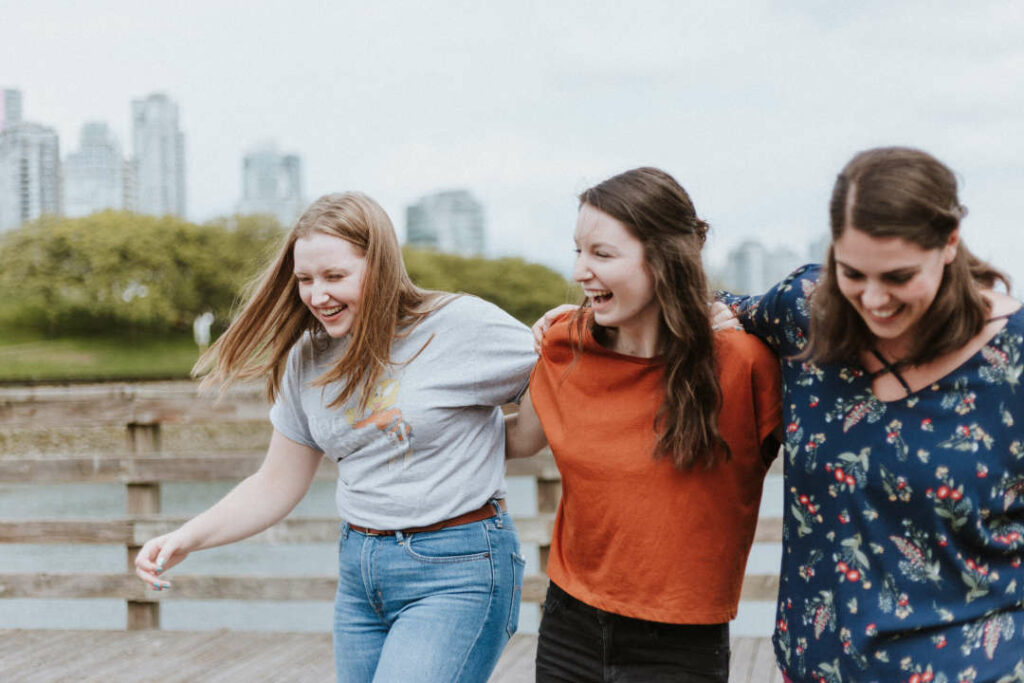 Find friends in a strange city
You are a stranger in the city, don't know anyone and feel alone? With us you will find help to quickly make new contacts!
#1 Rekindle old friendships
The easiest way to make friends in a new city is, of course, if you already have or have had friends there. Maybe you already know someone in the city or an old classmate moved to the city you're moving too? Don't be afraid to make contact and suggest a meeting. If the friendship is revived, it won't be long before the new old friend takes you to his or her friends' parties.
Grease some rolls, fill your water bottle with water, pack both in a small backpack and off you go – that's all you need to make a little trip. Whether you hike through the city or explore nearby forests on your (e-)bike: Sooner or later you will meet other adventurous people, e.g. at a rest stop, and you can exchange ideas with them. Who knows, maybe this will lead to an adventure group in which you regularly do something together?
#3 Visit university events
Pub crawls, orientation events, campus tours: Use university events whenever you can to make friends in a new city. Especially at the beginning of the semester, universities offer such events so that fellow students can get to know the lecturers and each other. You can find the events offered on the website of your university or university of applied sciences.
#4 Get to know your Staytoo neighbors
Staytoo is home to many exciting people just like you. It's worth getting to know them. For example, how about inviting your neighbor over for a cup of tea or to cook together? Great friendships have also been formed during board game evenings or joint walks.
Exciting events can be found in every city, for example neighborhood festivals, concerts, exhibitions or theater performances. It may feel strange to go to an event alone, but once you're there, you'll find that it's fun, too. The important thing is to get involved and stay open and relaxed. That way, you have the best chance of striking up conversations with others.
Our tip: Did you know that Staytoo offers its own events? BBQ in summer, MovieInParty, semester kick-off party, Halloween hangover brunch: there's always something going on here, but you also have your own space. True to the motto: Staytoo is you! Also check out our Instagram account regularly, where we regularly share info on Staytoo events like house parties.
#6 Organize an event yourself
If you're new to a city, know that others feel the same way. Every newcomer is happy to have opportunities to get to know each other. A great opportunity is when you create those opportunities, whether it's through a picnic, a movie night, or a group get-to-know-you walk.
For the movie night I mentioned, which you can call out as an event in a local Facebook group, you'll need technical equipment like a projector, laptop, etc., as well as chairs. Everyone can bring something, so there is also a joint planning, about which you already exchange online. In addition, as an organizer of your own events, you will learn important soft skills such as how to launch and successfully manage a project.
#7 Join a club (music, sports, etc.)
You sang in the choir or like to play volleyball? Time to join a club! There are usually taster sessions where you can check whether you feel comfortable with the people, the facilities, etc. A common hobby connects people, so you will quickly find a connection this way.
Yes, we all know Tinder. But it doesn't always have to be dating: there are also apps that help you find friends in a new city. The most popular are:
Each app has different features. Meetup focuses on groups and shared activities online and offline. We3 is based on the concept of the mini-group: It states that friendships are best formed when three people meet to get to know each other. Spontacs, on the other hand, offers you the opportunity to meet people from your area to spontaneously experience a leisure activity such as cinema or sports with them.
Most students do this anyway to earn some money on the side. You can combine the intention to increase your bank balance with making friends in your new city. When choosing a part-time job, make sure that you will be in contact with people. A job in the archives may be pleasantly quiet, but probably not the right way to make new friends.
Here are a few jobs where you'll interact with people a lot:
Language tandem (translator)
cinema/theater box office
Supermarket work
Promotion jobs
Recruiting members for associations
Catering and event jobs (catering, service, etc.)
Of course, it's especially smart to find a job that will help you make new friends and further your career. Take a look at the job exchanges on the Internet.
#10 Start with Co-Learning or Working
Why always sit alone in a closet and brood? More and more universities in Germany are offering co-learning spaces, in which open learning rooms are made available. Often, the learning spaces are also equipped with multimedia such as touch displays or laptops to borrow. So not only do you get to know fellow students there, but you also increase your effectiveness in learning at the same time.
Co-working spaces are particularly interesting for you if you want to start your own business as a student and build up a professional network during your studies. This is because co-working spaces often have other self-employed people working in them, such as web designers, developers, and graphic artists. Co-working spaces usually charge a fee, but a small investment in a desk that you can book flexibly definitely pays off for the expansion of your private and professional network.
#11 Use the bulletin board
Maybe a bit oldschool, but still present at many universities: The bulletin board with all kinds of notices, from book giveaways to carpooling opportunities to course offers, there are plenty of chances to make friends in your new city. Some bulletin boards even include personals, reminiscent of the classic personals in newspapers.
#12 Talk to people outside
Granted, this isn't the right approach for everyone to make friends in a new city this way. But it's often easier than you think to get in touch with other people out there. The biggest hurdle here is starting a conversation. Questions are a super way to make it easier.
Our tip: Greet people with a friendly "hello" and a smile, this often works wonders.
You can start a conversation with a stranger with these questions:
Do you know a good restaurant nearby?
I'm new in town, do you know where is a good place to party/sport/go on an excursion?
Questions can also be combined with compliments:
Nice jacket, did you buy it here in town?
If I may say so honestly: You seem likeable and as a newcomer I am looking for some
I'm looking for a bit of a connection in the city. Would you like to go out for ice cream with me?
Language tandem is a great way to make friends in a new city: You have a common interest with your tandem partner, you both want to learn a language. The language tandem is the perfect method for this, because a native speaker corrects each other. Through the regular exchange, you automatically get to know each other better and possibly become friends.
Extra Tip: Make a Mix of Everything
We recommend you mix and match the different tips to maximize your chances of making friends in a new city. Feel free to contact us at Staytoo anytime, our property managers are always ready to listen to you and have fun making new friends!
More articles in our blog
Studying is an intense, varied and challenging time. In our articles we show you the most important steps to cope well during this time:
We from the Staytoo team wish you a lot of fun and success in finding new friends. Be patient and keep at it, then you will build a great circle of friends – ahoy and see you soon!