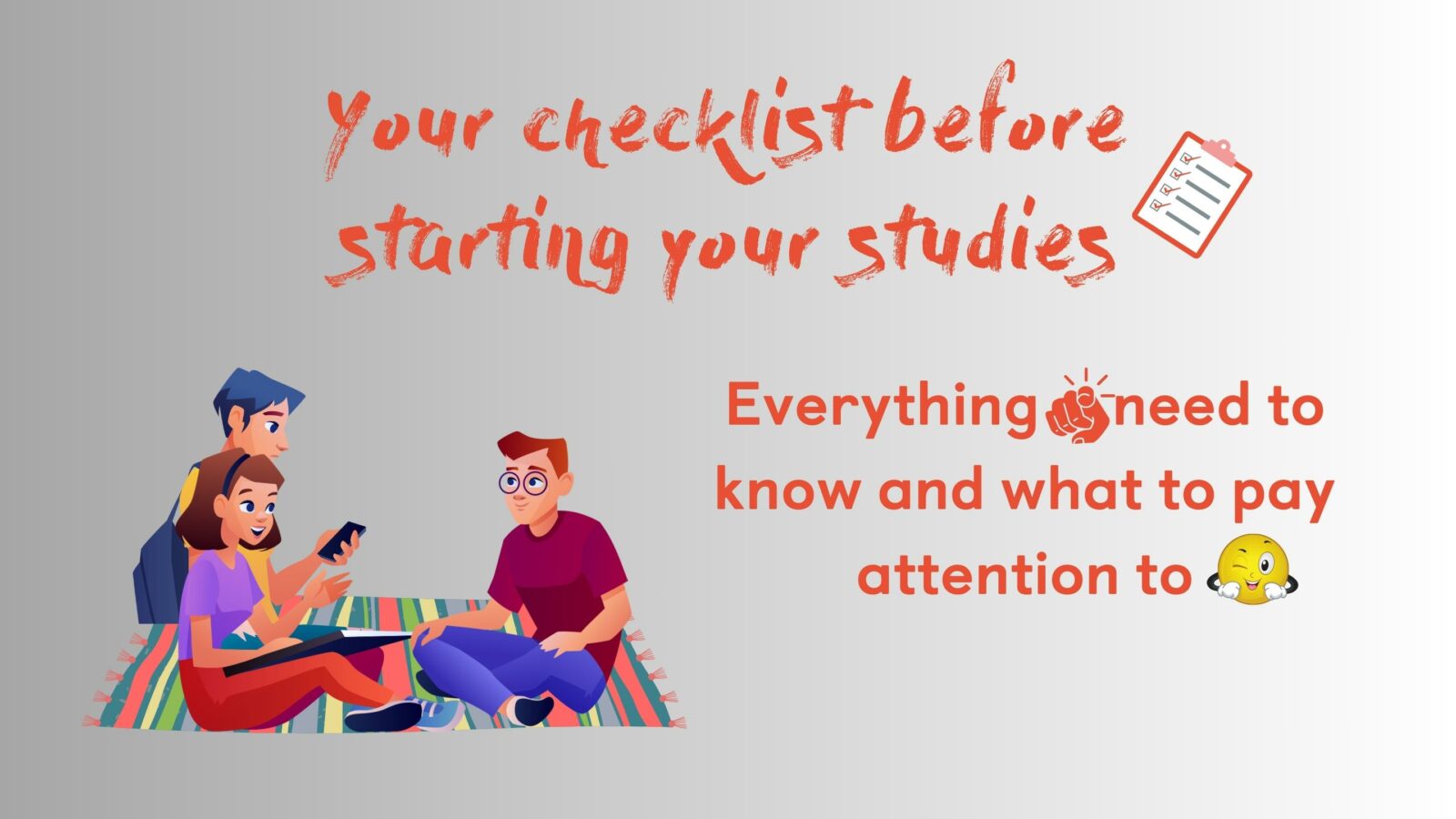 Your checklist before starting your studies
Are you about to start your studies? With our checklist you are optimally prepared. By the way: The checklist is also available as a PDF download at the end of this article!
#1 Gather all important documents
Letter of admission to your degree program
Certificate of enrollment from your university
Identification document (e.g. identity card or passport)
Proof of health insurance (e.g. certificate from your health insurance company)
Certificates such as language certificates
In some circumstances, other documents may be important, including proof of your bank account for tuition fees, a residence permit/visa, a CV, etc. Some universities also want to see a copy of your birth certificate for identification purposes.
To be on the safe side, check your university's website and the faculty's website for the required documents.
#2 Pay the semester fee on time
The semester fee is a contribution that students pay to the university per semester and usually before the beginning of each semester. The semester contribution is not a tuition fee, as Germany does not charge fees of this kind. Instead, the semester fee is used to fund student institutions and services.
This is what you pay the semester fee for:
Studentenwerk (runs dormitories and dining halls, among other things)
Semester ticket (low-priced public transport ticket)
Financing of teaching staff & university infrastructure
Important: The semester fee can vary from semester to semester. Therefore, find out the exact amount before you start your studies and transfer the amount or set up a direct debit in time.
#3 Take advantage of Orientation Week (O-Week).
The first week of the semester is usually a lecture-free orientation week. Students should get to know the university and its facilities such as libraries during this time. It is important to familiarize yourself with contact points and modalities of your study program, to meet contact persons and to make first contacts with other students.
Typical events during orientation week are:
Introductory meetings
Course-related meetings
Excursions through the city or into the surrounding area
Pub crawls
Find out about the dates of the events in good time to make the most of O-Week. Sometimes registration is required so that the organizers can plan. Also, if applicable, bring money with you or transfer it in advance if the event has a fee.
Remember: Orientation week is a key week to help you get started in your studies. So it pays to take in as many events as possible during O-Week.
#4 Get study materials in time
To be organized in your studies, you'll need lots of materials:
Laptop
Smartphone
Printer
Pens (ballpoint pen, fountain pen
Highlighters of different colors
Writing and note pads
Quick folders
Folders
Textbooks, journals
Study-specific utensils (e.g. tools)
Our tip: Look for special offers and price promotions like Black Friday to buy study materials as cheaply as possible. Discounters, electronics retailers and stationery stores regularly offer discounts.
#5 Take care of badges and accesses
You'll need IDs and accesses early on to participate in the day-to-day of your studies. Among the most important are:
Login for the university website
Access to your university mail client
Account for a learning management system
Access to the library website
Access to job boards ("Schwarzes Brett")
Logins for research databases
Get your login or access data as early as possible, as they are extremely important even before the official start of your studies, especially the e-mail access, as the universities often communicate particularly relevant information such as names of lecturers, seminar rooms and event times via e-mails.
#6 Put important dates and deadlines in your calendar
There are a lot of important dates for your studies. Keeping them in a wall planner will relieve you enormously, give you planning security and ensure that you have your head free for your studies.
The important dates and deadlines in your studies include:
Enrollment deadlines
Application deadlines
Deadlines for submitting coursework (e.g. term papers)
Examination dates
Dates for lectures and seminars
Our tip: You can keep handwritten appointments in a classic calendar, but we recommend a digital calendar that you can synchronize on your laptop and smartphone. The advantage here is that you can set reminders in good time to help you meet deadlines and not forget important dates.
#7 Build a social network early on
Once the daily study routine starts, you will be intensively busy memorizing the learning material. Perhaps you also have a time-intensive part-time job, which means that it is difficult to make new contacts during a full study week, which is why we recommended participating in the O-week under point #3.
However, you can also start cultivating contacts beforehand by:
become active in Facebook groups related to your university or course of study,
take part in online taster days,
register for subject-related or regional webinars,
join a local sports club, and
Attend cultural and social events (e.g., city festival or museum tour).
Especially events that take place outside of the university have the advantage that you build up a circle of friends and acquaintances alongside your studies. This will definitely enrich your view of life and everyday life.
Download: Free checklist for the beginning of your studies
More articles in our blog
New in town? In our blog, you'll learn more exciting methods for making contacts in a foreign environment and organizing your studies perfectly:
We from the Staytoo team wish you much success in your studies – ahoy and see you soon!